A most inventive year: 1851
It wasn't just Bally that took its first steps in 1851, writes Rob Ryan - it was a seminal year for invention and innovation across the world
In his recent thought-provoking collection of essays entitled Against Everything, Mark Greif argues that, in many ways, humankind has already achieved its core aims. 'For millennia, people have known what the necessities of life are. Food, shelter and clothes, made or won by labour,' he writes. He contends that, in the so-called developed nations at least, these goals were achieved some considerable time ago. Everything else we do is just window dressing.
What he doesn't quite clarify is when he thinks we reached this key point in our evolution. When did this modern golden age begin? You might pick the Industrial Revolution, which created mechanisation and early mass production, but also brought terrible social upheaval, urban overcrowding, poverty and disease. It was only after the revolution was won (generally accepted to be in the 1840s) that its benefits began to slowly reach the wider population. The seeds for the universal access to food, shelter and clothes only began to sprout in the second half of the 19th century.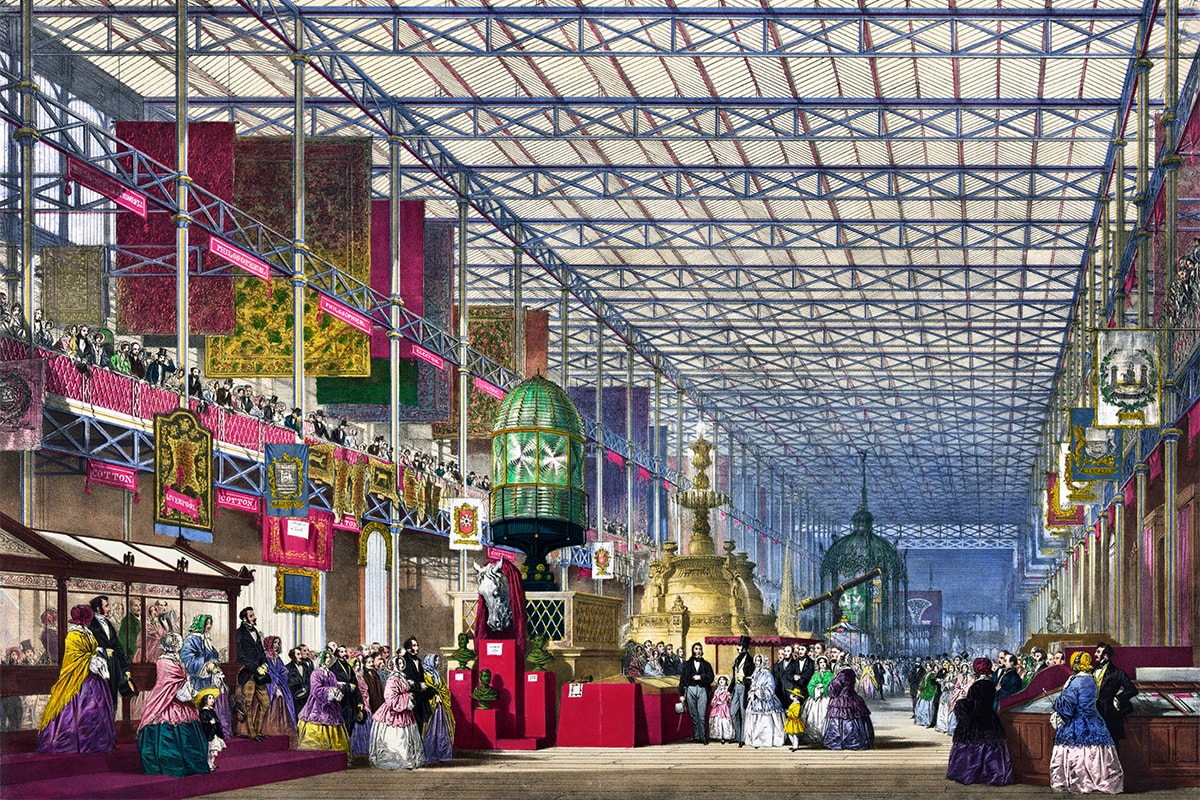 Take 1851, just as the century tipped past its halfway point, as a key date. It was then that the industrialised world took stock of what it had achieved to date with a showcase in London's Hyde Park. Snappily titled The Great Exhibition of the Works of Industry of All Nations, this proto-World's Fair/Expo was housed in the shimmering splendour of the Crystal Palace, a showcase for the cast plate-glass method, which allowed for the manufacture of cheap, strong and fault-free sheets of the material. Natural light was about to come into more homes than ever, a process hastened across the Atlantic by the founding in 1851 of the Corning Glass Works.
Opened on 1 May 1851 by Queen Victoria, the Great Exhibition, as it became known, consisted of 100,000 objects displayed along more than 10 miles, by some 15,000 exhibitors. By the time it closed in October, it had been seen by more than six million people.
One exhibitor was American locksmith Alfred Charles Hobbs, who demonstrated the inadequacy of popular locks such as Chubb by picking them before an astonished crowd. But back in America, one of his rivals was ahead of the game: in 1851, Linus Yale Jr invented what he referred to as the Yale Magic Infallible Bank Lock for safes and vaults. The 'pin tumbler' design that was part of the concept would eventually become the familiar domestic Yale door lock, making our hard-won shelter more secure than ever.
On a more sombre security note, Samuel Colt was also there, showing off his mass-production technique for guns and promoting his groundbreaking Colt 1851 Navy Revolver, as used by, among others, Wild Bill Hickok, 'Doc' Holliday (who was actually born in 1851), Richard Francis Burton, Ned Kelly and Robert E. Lee.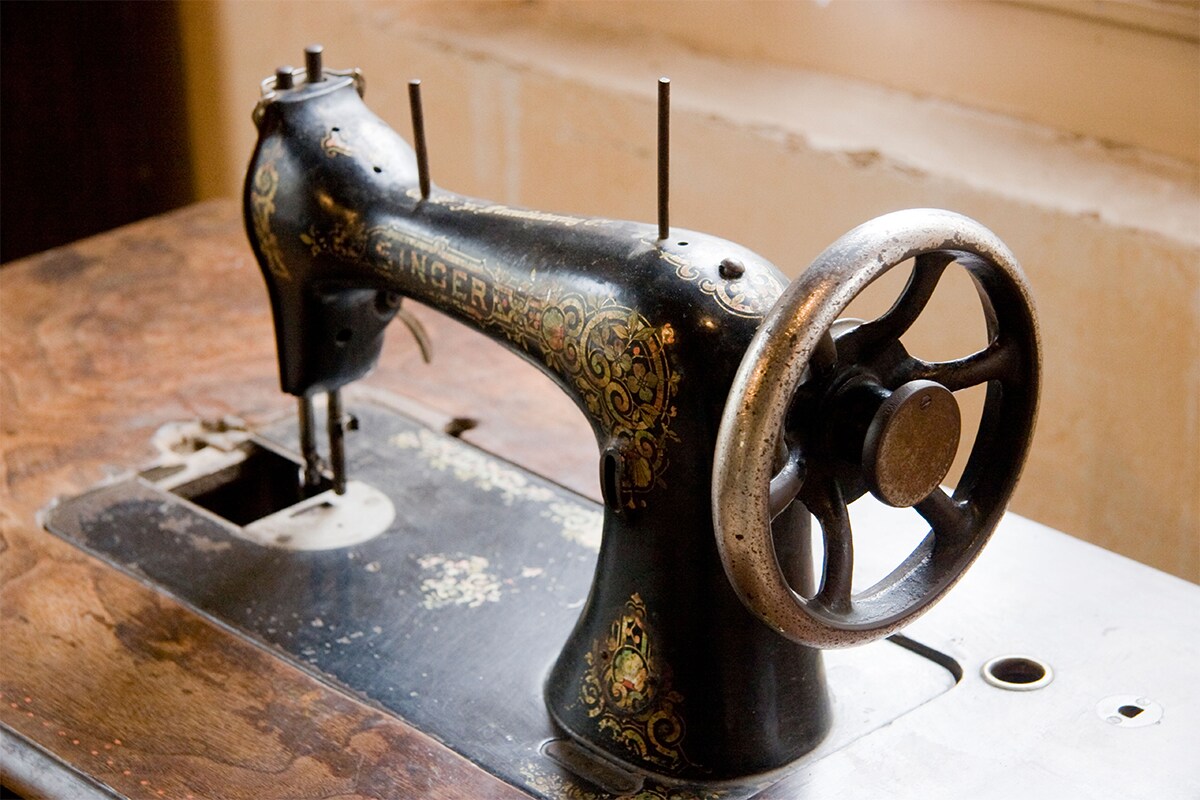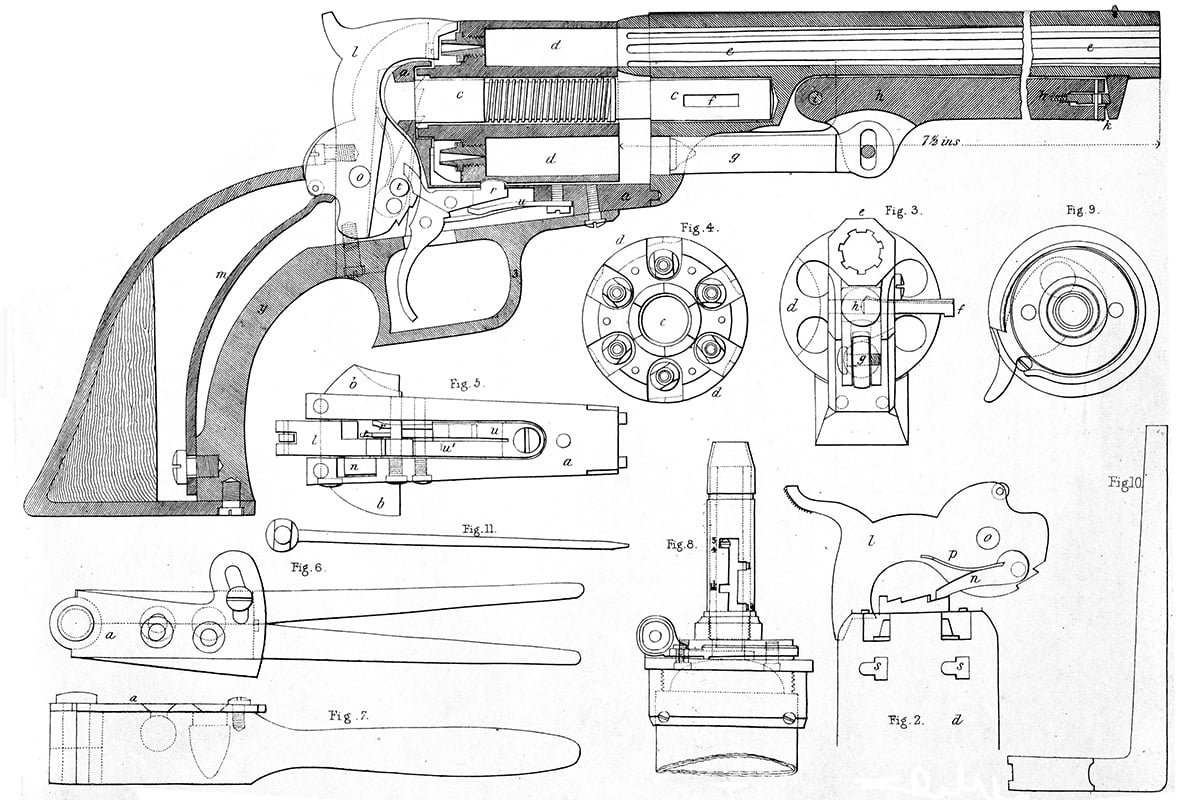 Also in 1851 came the first ripples of what would eventually be a seismic shift in how we treat and consume our food. John Gorrie was born to Scottish parents on the lovely Caribbean island of Nevis and became a doctor in Florida, with an interest in tropical diseases. He experimented with cooling his sick rooms with ice and, as it was a rather tricky commodity to come by in those latitudes, he investigated ways of making it artificially. On 6 May 1851, Gorrie was granted US Patent No. 8080 for a machine to make ice. Although he did not, as sometimes claimed, actually invent the refrigerator, his was a key step in the history of refrigeration (and air conditioning), a process that, down the line, would impact both how we stored food and have implications for the health of the population.
What about clothes, that other necessity? Well, a brace of revolutions were just beginning in 1851. In terms of retail, a department store called F & R Lazarus & Company (shortened to just Lazarus) was founded in Columbus, Ohio. Not a familiar name? Well, it eventually incorporated Macy's (also founded in 1851) and Bloomingdale's (1861) to become a huge player in the consumer marketplace.
In terms of manufacturing, on 12 August, Isaac Merritt Singer filed US Patent No. 8294 for an improved version of the sewing machine, suitable for the leather and tailoring industries (domestic models soon followed, starting the boom for paper patterns and home dressmaking).
Over in Europe, Carl Franz Bally couldn't have had any inkling that Singer's innovations would have a huge impact on his own fortunes. In 1851 he created his eponymous footwear company (inspired by a trip to Paris to buy shoes for his wife) in the cellar of the family home in the Swiss town of Schönenwerd. Three years later, he was able to open a proper factory, and in 1868, Bally began to mechanise. He introduced American McKay sewing machines - actually invented by Lyman Reed Blake, a former Singer employee - that could stitch the soles to the uppers. Powered by water-driven turbines, these drastically reduced the time it took to make a complete shoe compared to the old hand-sewn method and, by the 1870s, Bally was the pre-eminent European shoemaker.
Of course, Bally is a globally recognised brand, but there are those to whom history has not been so kind. Spare a thought for Jean Eugène Robert-Houdin, a French conjurer and magician who, in 1851, demonstrated his own version of the incandescent light bulb, when Thomas Edison was just four years old. Sadly, because of his fame as an illusionist, most observers dismissed it as a mere trick. Still, it was another embryonic game-changer that 1851 can claim for its own, even if Robert-Houdin isn't quite the household name that Edison - or indeed, Bally - remains.
Rob Ryan is an author and journalist for The Times and The Sunday Times