Back to black: high-style sneakers
Teo Van Den Broeke explains the eternal style and versatility of a pair of black sneakers
The athleisure trend is big news right now. A slightly cloying portmanteau of 'athletic' and 'leisure', over the past year or so the term has been loosely ascribed to any gym gear with a fashion-forward, tailored bent. Slim-cut tracksuit bottoms you can wear with suit jackets, for instance, or running tops cut from super-fine merino wool.
One of the most wearable elements to be born of this trend is the high-style sneaker. A key part of any of menswear collection shown over the past few seasons, the best are sleek enough to be worn with suits but just as easy to wear at the weekend. It stands to reason that the smartest of these low-slung sneakers are invariably cut from monochrome leather and suede. Where the season's ubiquitous white sneakers work particularly well with more casual outfits, when it comes to suits and more formal outfits your best bet is a black tennis, running or baseball sneaker with a bright white sole and dark, understated upper. Though wearing a pair of trainers with a suit might sound like something that should have been left firmly in the 1990s – along with the mod revival and hooch – right now, it's easier than ever to make the look work. Here, to help you get the trend down pat yourself, is our guide to wearing trainers in even the most unexpected scenarios.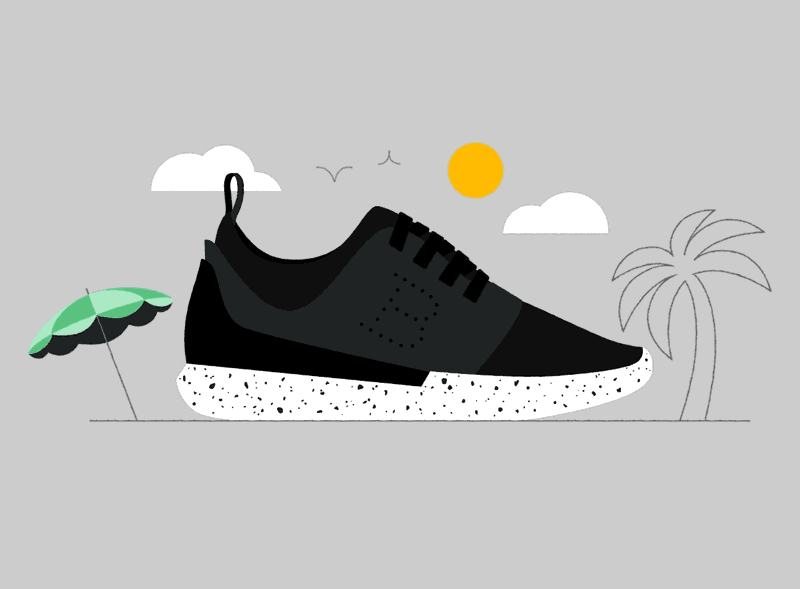 1) Wearing black sneakers at workBally's Colones
Though wearing sneakers to work may seem impossible if you work in the City, there are ways of making them look unimpeachably smart. First, start with a beautifully cut suit with a slim tapered trouser and a cuff. Something single breasted in charcoal or grey flannel will do nicely. Secondly, wear a tonal black or grey crewneck or roll-neck sweater beneath your suit. And third? Sport some smart black socks and pull on a pair of all black sneakers, such as Bally's Colones all-black deer-leather sneakers (no white soles here). The key is to keep all your shades neutral and matching, which will help undo the potentially over-casual effect of the sneaker.
2) Wearing black sneaker on holiday Bally's Avro trainers
An easy one, this. Opt for a breathable leather style in black or white, team with some low-slung invisible socks (it may feel unnatural but no one can see them and they'll stop unpleasant sweating) and wear with a pair of slim cigarette trousers in black seersucker by night or a pair of smartly cut grey shorts by day. Bally's Avro black leather trainers with the fashionable paint-flecked rubber sole are a perfect fit.
3) Wearing black sneakers at the weekend Bally's Aston trainers
A futuristic running sneaker is the perfect option at the weekend, as you can afford to go a bit more casual. Bally's bowling-shoe inspired-Aston with the brand's signature trainspotting stripe is the perfect option for this look. Team with a bare ankle, some slim cut black jeans and a chic logo sweatshirt to fully embrace the athleisure look, or a shirt for a relaxed but romantic dinner date.
4) Wearing black sneakers to a wedding Bally's Asher tennis shoe
Much like wearing sneakers to work, sporting trainers to a wedding sounds like a massive sartorial no-no. In reality however, it's possible to pull off the look (unless the wedding you're attending is your own). The key here is to keep everything perfectly tailored and to wear carefully considered accessories in order to demonstrate that you've actually paid attention to your outfit. Team the classic Asher tennis shoe, for instance, with a pair of slim buff chinos, a soft-shouldered khaki blazer and a grandad-collared shirt for an easy summer wedding look.