City Guide: Venice
At this time of year, Veneto's capital is overtaken by its acclaimed international architecture exhibition. But there's an array of other wonders to be discovered along its winding alleys and picturesque canals, writes Rmishka Singh
With opulent architecture and glamorous restaurants, fabulous art parties and riotous carnivals, Venice might be sinking, but it's sure as hell doing it in style.
Its population swells each winter, when the 10-day, pre-Lent party that is Carnevale sees masked revellers cavort all over the city. Streets, squares and canals become performance spaces for actors and artists, while extravagant balls are held at opulent palazzi. From May to November, it's alternately the turn of the contemporary-art crowd and architecture enthusiasts to descend on the city. This year, the 15th Architecture Biennale displays exhibits from all over the world at the Arsenale and Giardini, on the island's eastern tip, and the pavilions of 62 nations in historic buildings across the city.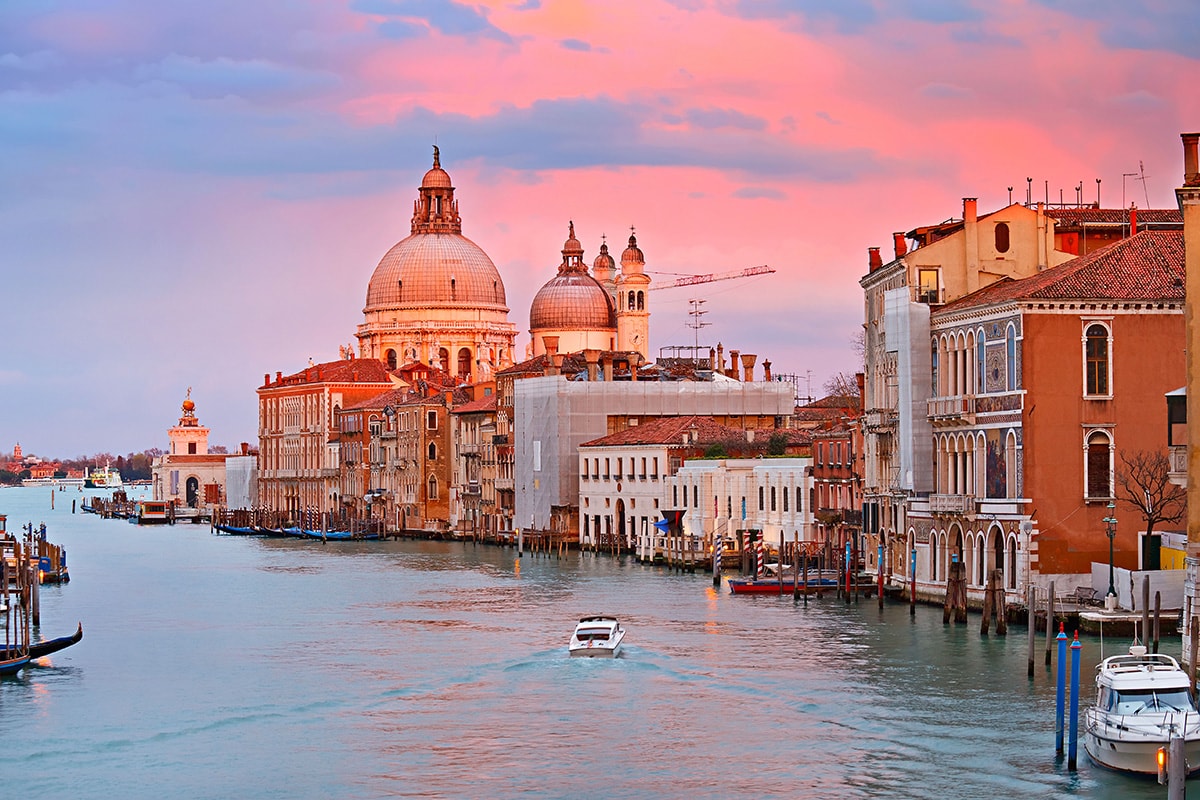 Sunset over the dome of Basilica di San Marco
Year round, when it comes to beautiful buildings, there's much that's jaw-dropping in Venice, starting with the palazzi lining the Grand Canal, of course. Noble families flaunted their wealth all the way along this S-shaped waterway by pouring it into fancy façades and luxury loggias that could be admired from passing boats. Take a vaporetto and voyage through architectural history, from Byzantine to Gothic - Ca' d'Oro is a crucifix-topped case in point - through the frescoed Renaissance to unashamedly ornate Baroque beauties such as Santa Maria della Salute church, which guards the entrance to the canal. Next door is Punta della Dogana, the former customs house that was strikingly reinvented by Japanese architect Tadao Ando in 2009 and now hosts large-scale art exhibitions. A five-minute walk west takes you to the Peggy Guggenheim Collection, where works by more than 200 artists - Picasso, Paul Klee, Alexander Calder and Max Ernst among them - are on display in a light-filled 18th-century palazzo.
When cocktail hour calls, Venice answers. The Bellini was invented here, so it would be rude not to, no? Imbibe at Caffè Florian on St Mark's Square among ridiculously lavish interiors to the strains of a live orchestra. Other tipples to tick off include the region's famous fizz, prosecco (head to aptly named locals' favourite Al Prosecco, in Sestiere Santa Croce), and the post-prandial refresher sgroppino (lemon sorbet, vodka, prosecco).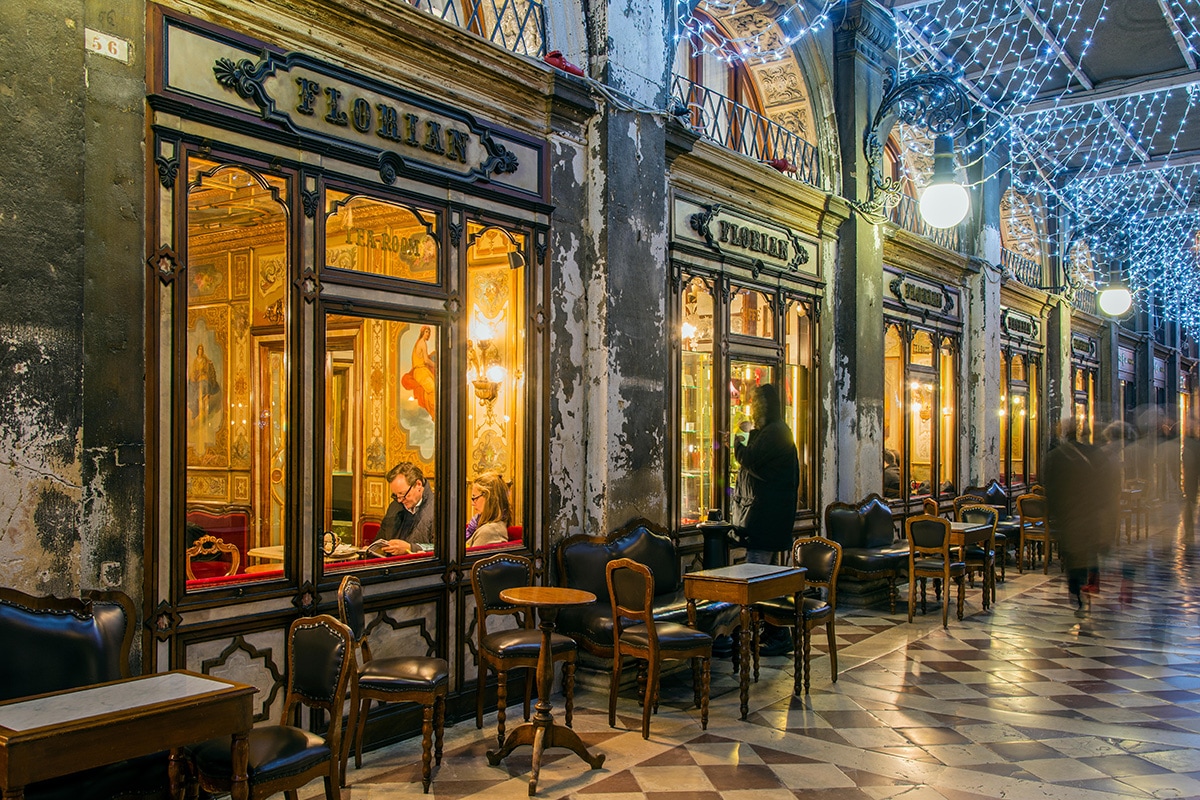 Caffe Florin on St Mark's Square
Some claim Venice-born merchant Marco Polo brought pasta to the Western world; pay tribute by sampling the local iteration, bigoli. The fat, udon-like pasta is typically served with an anchovy and onion sauce. Paradiso Perduto, in the distinctly non-touristy Cannaregio neighbourhood, serves another speciality: black cuttlefish-ink pasta that looks like a plate of Medusa's hair but tastes like heaven. Also in Cannaregio is convivial bacaro, or gastropub, Alla Vedova (official name: Cà D'Oro alla Vedova), whose meatballs are fabled far and wide for good reason. Take things up a notch at Corte Sconta, close to the Arsenale, and dine under a 100-year-old grapevine on fresh seafood and house-made pasta, with an inviting wine list that includes several organic and biodynamic labels.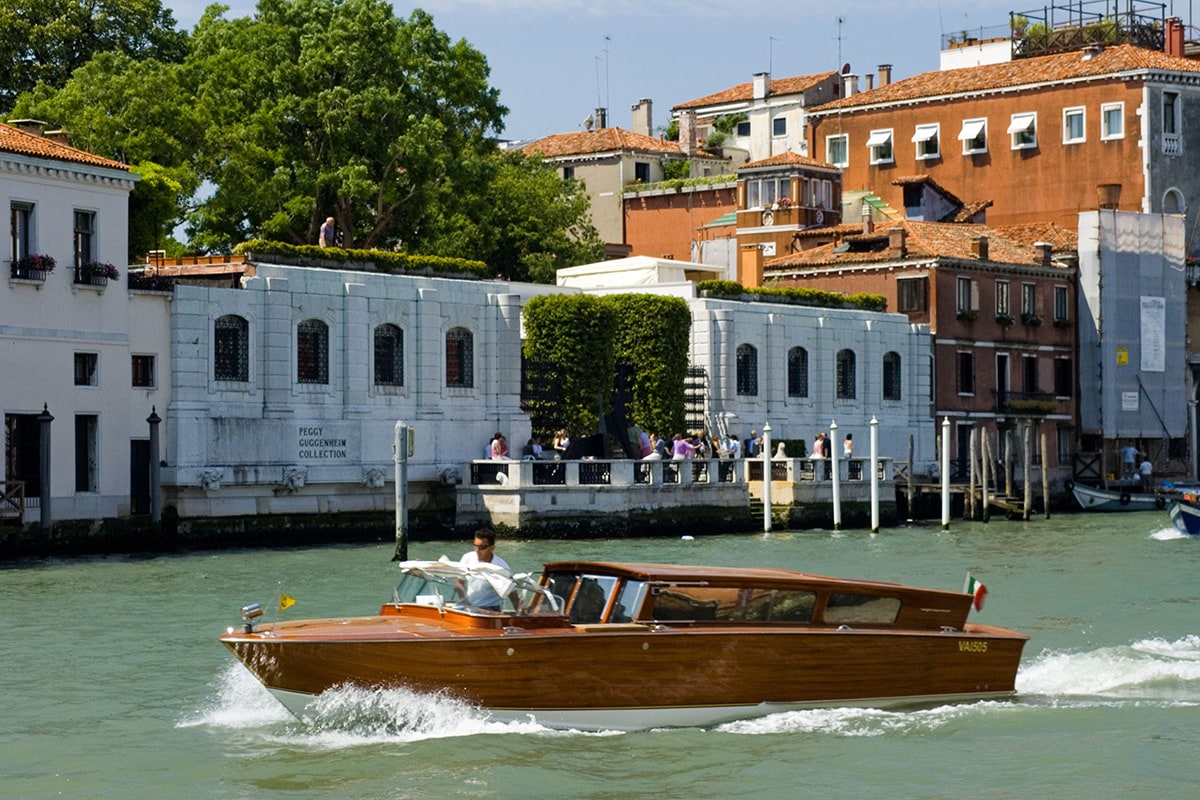 Cruise down the canals in style
lastly, where to lay your head in La Serenissima, as Venice is also known. Aman Venice is undoubtedly the city's most stylish address; George and Amal Clooney spent their wedding night at the 16th-century palazzo, possibly admiring the ceiling paintings by Giovanni Battista Tiepolo. During the Biennale, The Bauers L'Hotel hosts the great and good of the art world and its parties, with a pop-up from Paris club Le Baron last year. Ticking the decadence box, prosecco is even served at breakfast.
Rmishka Singh is a travel journalist who has written for Rough Guides and Where Magazine
Punta della Dogana
Dorsoduro 2
www.palazzograssi.it
Peggy Guggenheim Collection
Palazzo Venier dei Leoni
Dorsoduro 701-704
+39 041 240 5411
www.guggenheim-venice.it
Caffè Florian
Piazza San Marco 57
+39 041 520 5641
www.caffeflorian.com
Al Prosecco
Campo San Giacomo da l'Orio 1503
+39 041 524 0222
www.alprosecco.com
Paradiso Perduto
Fondamenta della Misericordia 2540
+39 041 720 581
www.facebook.com/osteriaparadisoperduto
Alla Vedova
Calle del Pistor 3912
+39 041 528 5324
Corte Sconta
Calle del Pestrin
+39 041 522 7024
www.cortescontavenezia.it
Aman Venice
Calle Tiepolo 1364
+39 041 270 7333
www.aman.com
The Bauers L'Hotel
San Marco 1459
+39 041 520 7022
www.bauervenezia.com